Autel MaxiSys Elite II Diagnostics Tool (Upgrade of Elite/ MK908P)
---
Autel MaxiSys Elite II Diagnostics Tool (Upgrade of Elite/ MK908P), 2022 Newest with J2534 Advanced ECU Programming & Coding, Bi-Directional Control, 36+ Services, Oil Reset, ABS Bleed, EPB + Free MV105
About Autel Maxisys Elite II
【2022 Newest Ver., Better Option Than Elite/ MK908P】Autel msElite II updated and optimized hardware & software on the base of ancient Version Elite/ MK908P, integrated state of the art hardware to run most smoothly⭐Exynos8895 octa-core processor,⭐Android 7.0,⭐4GB & 128GB,⭐continuous charging pile for maintain vehicles around the clock. Elite II fresh out software updates to accommodate growing new cars (to 2020, 2022) and older cars. Note: Maxisys Elite II work with BT506 to perform full battery test.
【ECU Programming&Coding, with VCI J2534---Worth $1099】Autel Maxisys Elite II comes with J2534 perform ECU programming and coding capabilities available only in high-end products, with which can replace existing software/fireware in ECUs to troubleshoot vehicle driveability, fuel efficiency, power loss and durability issues. Besides, it enable refresh hidden functions, simulate high-end car functions, personalize car customization let general to luxury vehicles. Note: ECU Programming only for BE~Z/B~W.
【Ultimate All System Diagnostics, 36+ Services】Autel MaxiSys Elite II automotive diagnostics scanner collects over 36+ maintenance for one-click sweep obstacles: Oil Reset, EPB, SAS, DPF Regeneration, Throttle, Suspension, ABS Bleed, IMM~ K~ys, Injector Coding, Power Balance, etc. Besides, it enable share the same OE-level all system diagnostics as expensive factory-tools with a much more attractive price tag: Read/ Erase DTCs, View Live Data, active tests, adaptation, matching and etc.
【Advanced Functions New Added】As the imminent hottest-selling diagnostics scanner, Autel Maxisys Elite II adds J2534 Pa~s-T~ru reprogramming tool is available for more advanced functions, like Guided Functions, Online Parameterization, Component Matching. In addition, Elite II can work with MaxiBAS BT506 play whole battery test.
【1 Year Warranty】Autel msElite II comes with 1 Year Free Software Update & 12 Months Warranty & 30-day Money Back or New Replacement Policy & Technical Support. Any question, please feel free to contact us via sales@autelmaxisys.com.
[2022 Version]Autel Maxisys Elite II(1 Year Free Update)
The Autel MaxiSys Elite II is the 2021 latest OBD2 Bi-Directional Diagnostic Scanner of the Autel Maxisys product line. As an upgraded version of Maxisys Elite, MaxiSys Elite II featured the best possible coverage of OE-level all system diagnostics & analysis, advanced ECU programming, bi-directional, and test components to confirm repairs.
As a 2022 Maxisys Series Latest flagship version scanner, the Autel MaxiSys Elite II is based on the fast and intuitive Android 7.0 OS powered by an Octa-core processor, features a 9.7-inch ultra-high resolutions touchscreen, 4GB RAM & 128GB on-board memory, long-distance wireless communication, and 8 hours of continuous battery life.
Autel Maxisys Elite II Features
The most extensive complete system coverage for more than 80 US domestic, Asian and European makes and models
Exceptional OE-Level functionality from comprehensive OBDII diagnostics & services to advanced ECU coding and programming
Uniquely integrated vehicle programming capabilities working with a SAE J2534-1 & -2 compliant vehicle programming pass-thru interface
Automatic system and software updates with real-time push message notifications via internet
Instant remote control tech support anytime, anywhere
Interactive Data Logging sessions enable direct contact with Autel Support for first-hand troubleshooting of diagnostic bugs and errors
One-stop multitasking designed for ideal management of workshop operations to keep all data files, customer info, and vehicle records well organized
Unique ergonomic design with rubberized outer protection and a rugged internal housing
✔️Upgrade Premium Hardware: Android 7.0, Octa-core Processor (2.3GHz Quad-core + 1.7GHz Quad-core), 4GB 128GB, 9.7inch BOE
✔️Advanced ECU Programming/ Coding: Reprogram a new ECU for Benz/ BMW, Reflash hidden functions
✔️One-Stop OE-Level All System Diagnostics: Scan all available electronic systems
✔️Bi-directional Control: Also called Action Test, Transmit control commands to operate the vehicle systems to do functional test.
✔️36+ Maintenance: Solve car maintenance and annual check concerns
✔️IMMO Key (Key Fob Coding): Disable lost keys, prevent vehicle be stolen
✔️Guide Functions: Guide mechanics to repair vehicles one by one
✔️Support 140+ Brands Vehicles to 2022: Among Europe, Asia, USA, to 2019/2020/2021/2022 new cars
✔️Support Pre-scan and Post Scan Report: Printer report for customers who needs
✔️Auto VIN/ Auto Scan/ GPS: Auto Scan VIN Service For some Vehicles After 2006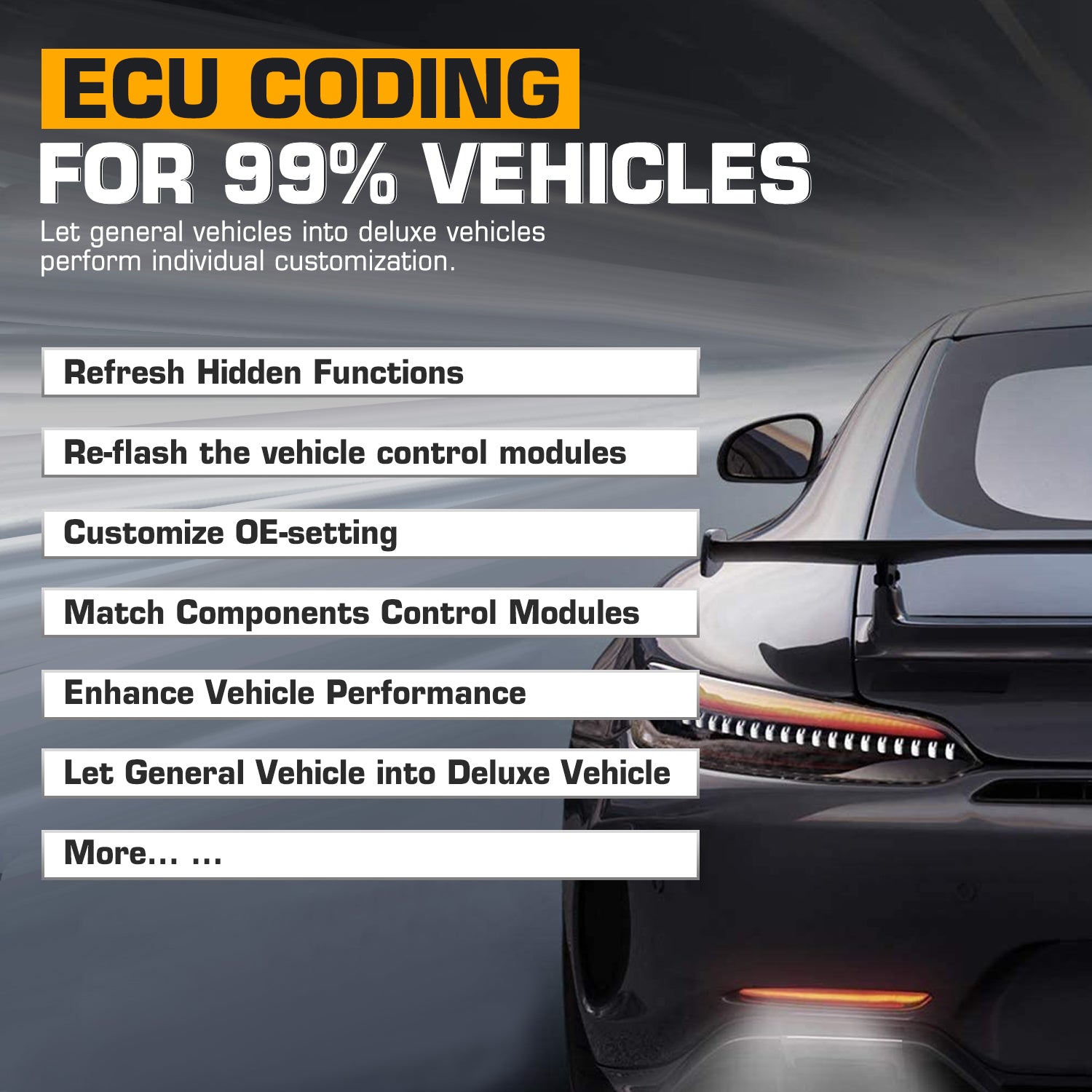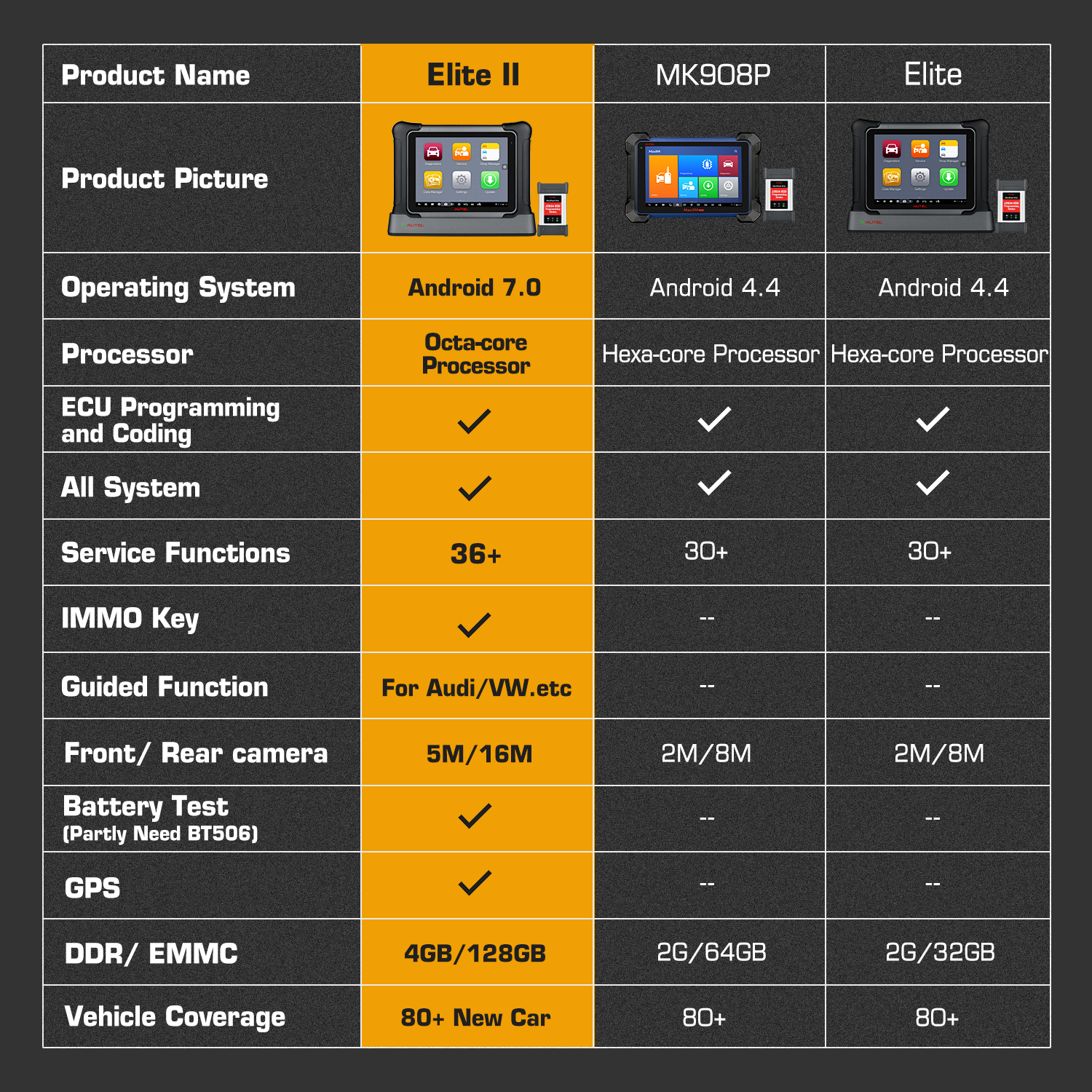 Autel Maxisys Elite II Specifications: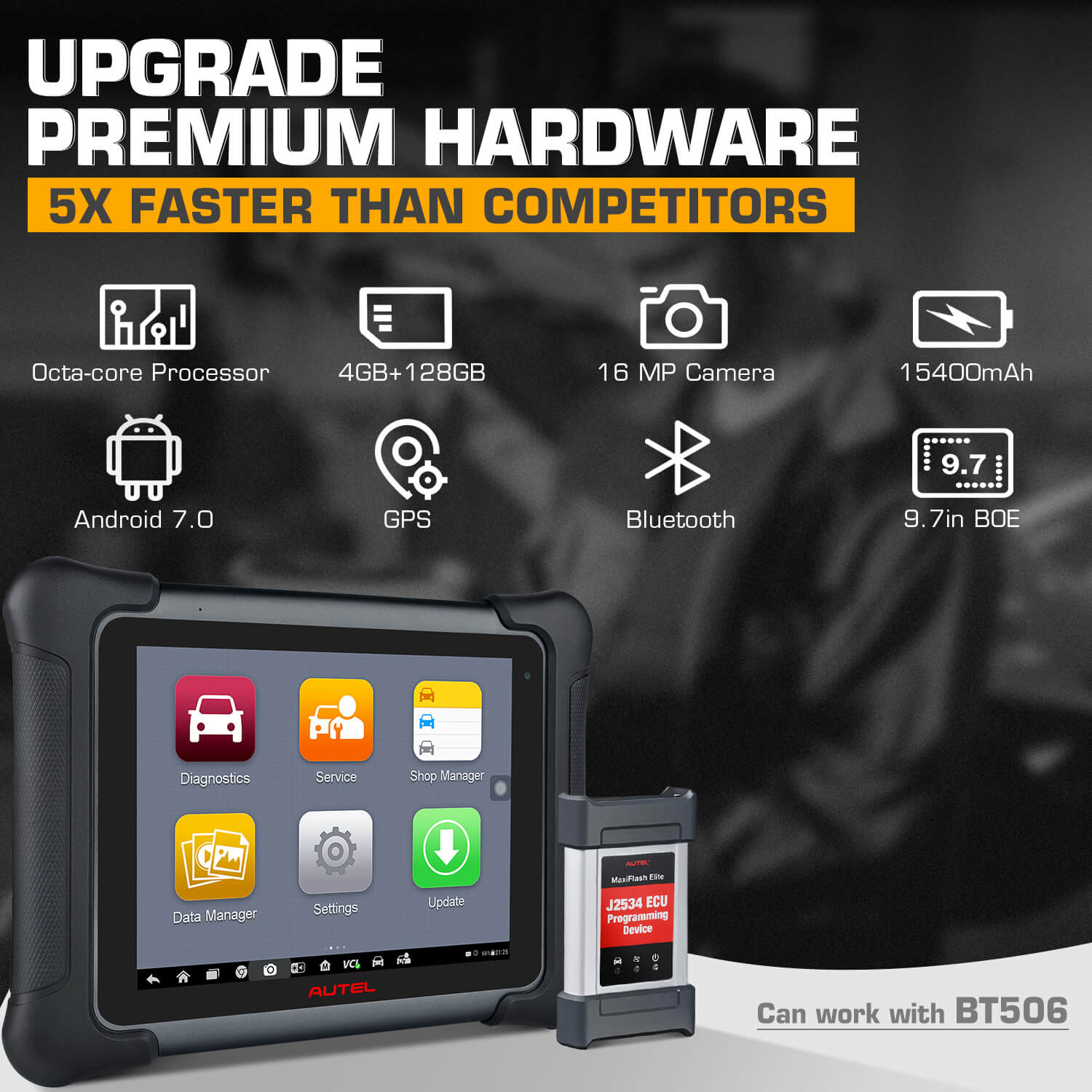 Operating System
Android 7.0
Processor
Samsung Exynos 8895V octa-core Processor (2.3GHz Quad-core Mongoose + 1.7GHz Quad-core A53)
Memory
4GB RAM & 128GB On-board Memory
Display
9.7"Retina display with 2048X1536 resolution&Capacitive touch screen
Vehicle Communication Interface(VCI)
Maxiflash Elite J2534
Connectivity
WiFix2 (802.11 a/b/g/n/ac 2x2 MIMO)
BT v.2.1 + EDR
GPS
USB 2.0 (TWO USB HOST Type A, ONE USB mini device)
HDMI 2.0
SD Card (Support up to 256GB)
Camera
Rear:16.0 Megapixel,Autofocus with Flashlight
Front:5.0 Megapixel
Sensors

Gravity Accelerometer

Ambient Light Sensor(ALS)

Audio Input/Output
Microphone
Dual Speakers
3-Band 3.5 mm stereo/standard headset jack
Power and Battery
3.7V/15400mAH Lithium-polymer battery
DC/12V/3A Power Supply
Input Voltage
DC/12V/3A
Power Consumption
Max 20W
Operating Temperature
-10 to+55°C
Storage Temperature
-20 to+70°C
Dimensions(W x H x D)
309 X 225 X 35(mm)
Weight
1.59 kg
Protocols
ISO 9142-2,ISO 14230-2,ISO 15765-4,K/L line,Flashing Code,SAE-J1850 VPW,SAE-J1850 PWM,CAN ISO 11898,Highspeed,Middlespeed,Lowspeed and Singlewire CAN,GM UART,UART Echo Byte Protocol,Honda Diag-H Protocol,TP 2.0,TP 1.6,SAE J1939,SAE J1708V
Autel Maxisys Elite II Package List
1x Maxisys Elite II Main Unit
1x Docking Sation
1x MaxiFlash Elite J2534 ECU Programming Device
1x Main Cables
1x Clipper Cables
1x USB Cables
1x Cigarette lighter
1x AC/DC adapter (12V)
1x User manual
1x Carrying case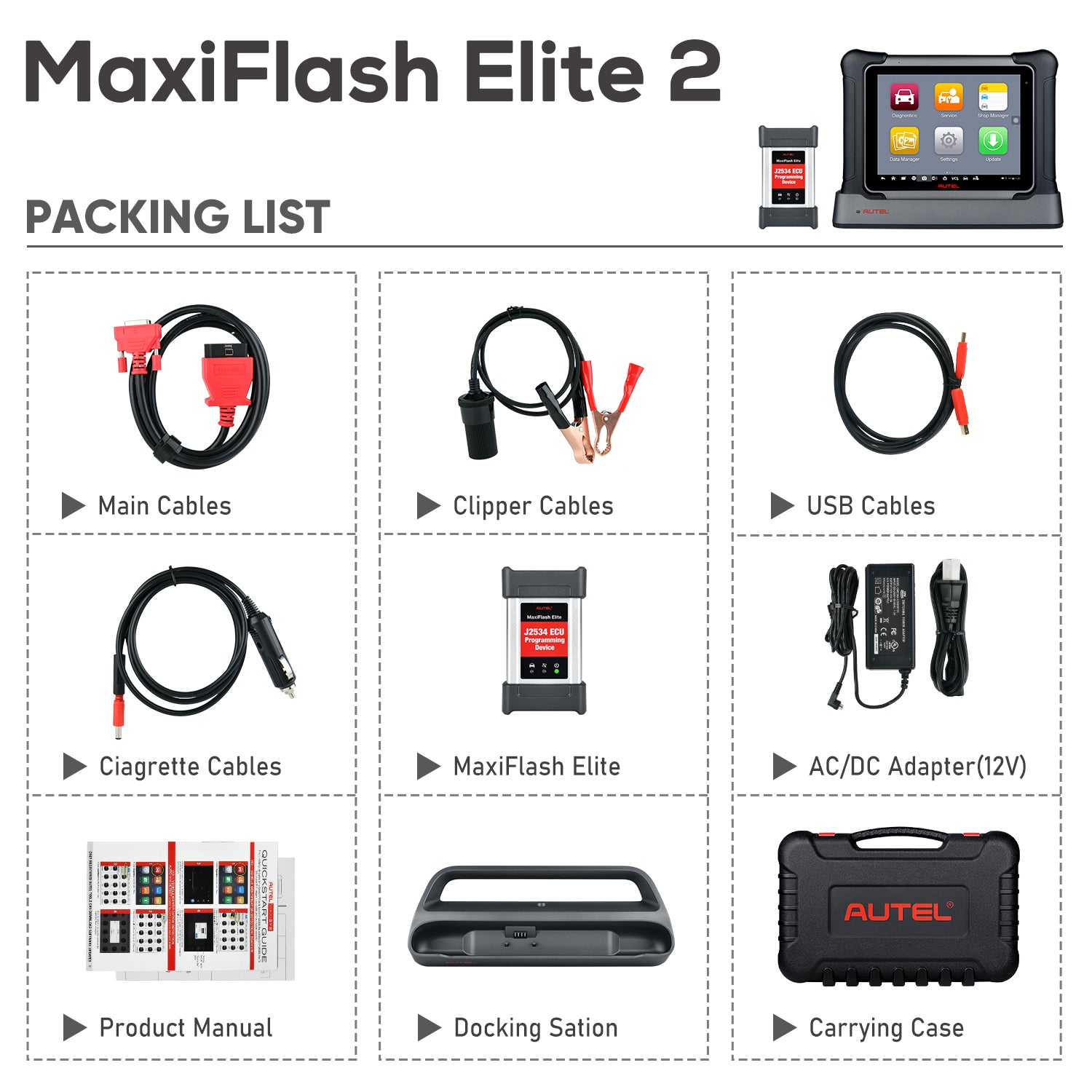 Purchasing & Delivery
Why Paying with PayPal?
1. Payment is traceable. You can trace the status of your payment using your PayPal account.
2. Payment does not require you to use your credit card online (you can transfer directly from your bank account).
3. PayPal will protect your personal details if you choose to pay by credit card.
How to pay by PayPal?
1. Once you have your cart ready to go, you can head over to the checkout page to continue with your purchase. You will be asked to fill in your shipping/invoice details.
2. We accept all major credit cards through Paypal. PayPal accepts Visa, Mastercard, American Express, Discover.
3. If you run into any problems during this procedure, send us an e-mail to
Autelobdscan@gmail.com
and we will get back to you as quickly as possible.
Other Customers also buy: